Through the New Arcadian Journal, the New Arcadian Press publishes studies in the cultural politics of the eighteenth-century landscape garden. The New Arcadian Journal is the fine press book that uniquely combines original scholarship with artist-illustration. For published appreciations, see Reviews  (menu bar above).
The Humphry Repton Bicentenary 2018
On The Spot: The Yorkshire Red Books of Humphry Repton, Landscape Gardener by Patrick Eyres and Karen Lynch: 29.7 x 23.3 cms, 197 pp, 165 illustrations.
This  contains the most up-to-date research on the places attributed to Repton:- Armley, Bessacre, Harewood, Langold, Mulgrave Castle, Oulton, Owston, Rudding and Wentworth Woodhouse. Most importantly, the six extant Red Books are reproduced, courtesy of the owners, along with a festival of associated imagery that includes all Repton's Yorkshire illustrations for Peacock's Polite Repository, courtesy of The Gardens Trust. It is the 3rd 'Surrogate NAJ, enlarged and in colour'.
Click on the 'Portfolio & Shop' (menu bar above)
~ See details of all the back issues, and acquire NAJs online. UK price £25 includes post and packing; Overseas price £30 also includes post and packing. For NAJs 1 – 28, UK price £15 ditto; Overseas price £20 ditto. For purchases by post, email, phone, see 'Contact Us' (menu bar above).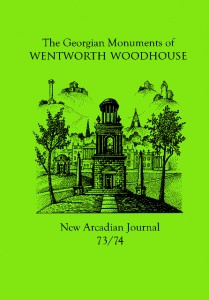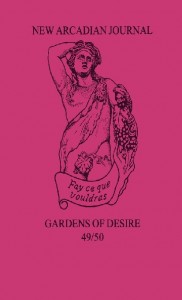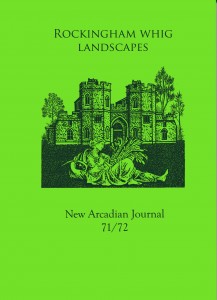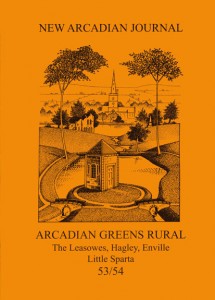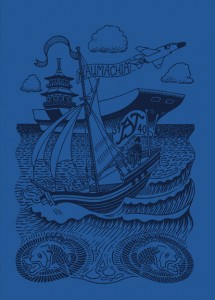 ~ See also all the 70 Broadsheets (1981-2011) in 'Portfolio & Shop' (menu bar above) as well as the books, cards, posters and ephemera.
Still available
~ Diplomats, Goldsmiths and Baroque Court Culture: Lord Raby in Berlin, The Hague and Wentworth Castle (2014). Published on behalf of the Wentworth Castle Heritage Trust as the 2nd 'Surrogate NAJ, enlarged and in colour', this 20 x 26 cm book comprises 10 chapters by 9 authors with 196 pages and 156 illustrations (largely photographs). UK price £25 includes post and packing; Overseas price £35 ditto. See 'Portfolio & Shop / Books'. ONLY 2 copies left
~ The Ian Hamilton Finlay Collection: From 1981 the New Arcadian Press published many works by or relating to Ian Hamilton Finlay, especially during The Little Spartan War. Many are still available: 6 NAJs, 11 Broadsheets, 1 small book and 4 cards. They are available individually or as a set, £255 excluding post and packing, see 'Portfolio & Shop / Books'
~ Lancelot 'Capability' Brown : see NAJ 65/66, The Grenville Landscape of Wotton House, 140 pp., 90 illustrations, 10 authors, 4 artists, 3 map-makers. This A5 book discusses the landscape garden, which was elevated to Grade I by Historic England in 2016, and is a triumph of water engineering by 'Capability' Brown. See also Noble Prospects: Capability Brown and the Yorkshire Landscape, by Karen Lynch, 72 pp., 38 colour illustrations, via 'Portfolio & Shop / Books' on the menu bar above. NB: NAJ 75/76, Yorkshire Capabilities is OUT OF PRINT
~ ~