The Humphry Repton Bicentenary 2018
On The Spot: The Yorkshire Red Books of Humphry Repton, Landscape Gardener by Patrick Eyres and Karen Lynch: 29.7 x 23.3 cms, 197 pp, 165 illustrations, £25 UK, £35 Airmail.
Only 16 copies left after 4 reprints. The six extant Red Books are reproduced alongside the most up-to-date research on Repton's commissions at Armley, Bessacre, Harewood, Langold, Mulgrave, Oulton, Owston, Rudding and Wentworth Woodhouse. The epilogue addresses the influence of the Red Books on the poet-gardener Ian Hamilton Finlay (1925-2006).
Review in Country Life, 14 November 2018, by Steven Desmond: "… For once, we can judge these attractive ideas from a reading of the complete text, with the full set of illustrations in the right order – an exceptional treat. This marvellous achievement is the work of Karen Lynch, whose excellent research shines forth from each of her introductory essays, and Patrick Eyres, who performs his usual mind-broadening task of setting these places in their historical and political context. The New Arcadians have been teaching us pleasantly provocative lessons for many years and this superb publication is no exception. Merely to have persuaded the various owners to agree to participate in the exercise is a triumph in itself …"
The New Arcadian Journal
Through the New Arcadian Journal, the New Arcadian Press publishes studies in the cultural politics of the eighteenth-century landscape garden. The New Arcadian Journal is the A5 fine press book that uniquely combines original scholarship with artist-illustration. For published appreciations, follow this link to Reviews.
Follow this link, New Arcadian Journal, for details of all the back issues and order NAJs: £25 UK, £30 Airmail. For NAJs 1 – 28: £15 UK, £20 Airmail. To order by email, link to Contact Us.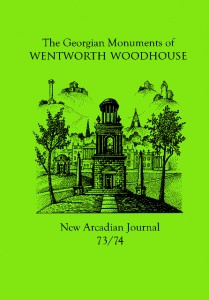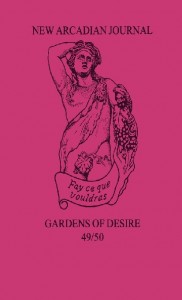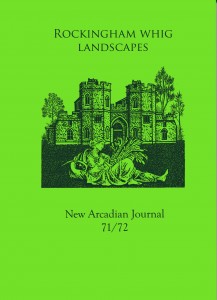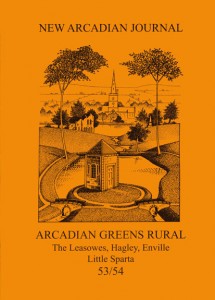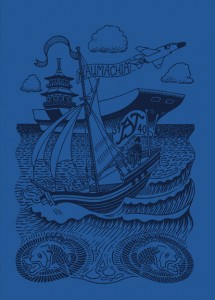 ~ For other publications, follow these links to all the 70 Broadsheets (1981-2011) as well as the Books, Cards, Posters and Ephemera.
Still available
~ The Ian Hamilton Finlay Collection: Since 1981 the New Arcadian Press has published many works by or relating to Ian Hamilton Finlay. Many are still available – 6 NAJs, 11 Broadsheets, 1 small book and 4 cards – both individually and as a set, £255 (excluding post and packing). Follow this link to The Ian Hamilton Finlay Collection.
~ Lancelot 'Capability' Brown: Follow these links to NAJ 65/66, The Grenville Landscape of Wotton House and Noble Prospects: Capability Brown and the Yorkshire Landscape, by Karen Lynch (72 pp., 38 colour illustrations), or click on 'Portfolio & Shop / Books'. NB: NAJ 75/76, Yorkshire Capabilities is Out of Print.
In Memorium
Ian Gardner, 1944-2019, link to Obituary, and Chris Broughton, 1949-2015, link to Remembering Chris, or click on 'Contact Us'. 
~ ~