Through the New Arcadian Journal, the New Arcadian Press publishes studies in the cultural politics of the eighteenth-century landscape garden. The New Arcadian Journal is the fine press book that uniquely combines original scholarship with artist-illustration. For published appreciations, see Reviews  (menu bar above).
The Humphry Repton Bicentenary 2018
In preparation. On The Spot: The Yorkshire Red Books of Humphry Repton, landscape gardener by Patrick Eyres and Karen Lynch. Publication, Spring 2018. This is the 3rd 'Surrogate NAJ, enlarged and in colour'. Reserve a copy now by emailing Patrick Eyres: <patrickjeyres@gmail.com>.
Lancelot 'Capability' Brown
~ NAJ 65/66, The Grenville Landscape of Wotton House, 140 pp., 90 illustrations, 10 authors, 4 artists, 3 map-makers. This A5 book discusses the landscape garden, which was elevated to Grade I by Historic England in 2016, and is a triumph of water engineering by 'Capability' Brown.
~ Noble Prospects: Capability Brown and the Yorkshire Landscape, 72 pp., 38 colour illustrations. Get Karen Lynch's book via 'Portfolio & Shop / Books' on the menu bar above.
~ NAJ 75/76, Yorkshire Capabilities. OUT OF PRINT.
Explore the 'Portfolio & Shop' (menu bar above)
~ See details of all the back issues, and acquire NAJs online. UK price £25 includes post and packing; Overseas price £30 also includes post and packing. For NAJs 1 – 28, UK price £15 ditto; Overseas price £20 ditto. For purchases by post, email, phone, see 'Contact Us' (menu bar above).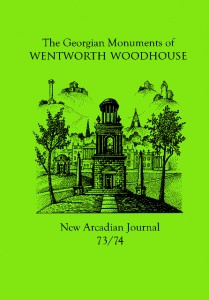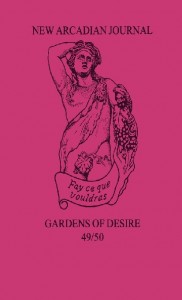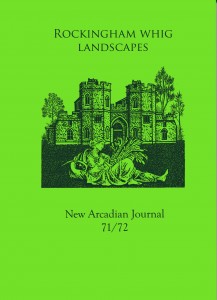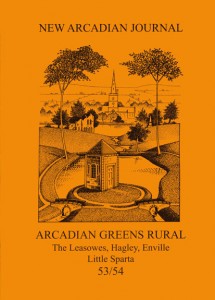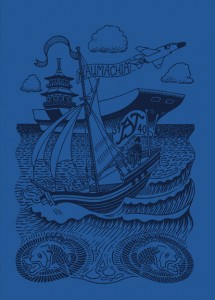 ~ See also all the 70 Broadsheets (1981-2011) in 'Portfolio & Shop' (menu bar above) as well as the books, cards, posters and ephemera.
Still available
~ Diplomats, Goldsmiths and Baroque Court Culture: Lord Raby in Berlin, The Hague and Wentworth Castle (2014). Published on behalf of the Wentworth Castle Heritage Trust as the 2nd 'Surrogate NAJ, enlarged and in colour', this 20 x 26 cm book comprises 10 chapters by 9 authors with 196 pages and 156 illustrations (largely photographs). UK price £25 includes post and packing; Overseas price £35 ditto. See 'Portfolio & Shop / Books'
~ The Ian Hamilton Finlay Collection: From 1981 the New Arcadian Press published many works by or relating to Ian Hamilton Finlay, especially during The Little Spartan War. Many are still available: 6 NAJs, 11 Broadsheets, 1 small book and 4 cards. £255 excluding post and packing, see 'Portfolio & Shop / Books'