Through the New Arcadian Journal, the New Arcadian Press publishes studies in the cultural politics of the eighteenth-century landscape garden. The New Arcadian Journal is the fine press book that combines original scholarship with artist-illustration. For published appreciations, see Reviews (menu bar above), and also: The Times, Garden History, BASA, and Jottings from the Journal.
Yorkshire Capabilities ~ Published on 22 April 2016
~ NAJ 75/76, Yorkshire Capabilities, 196 pp., 104 illustrations, 4 authors, 12 artists, 8 historical artists. This A5 book explores the Yorkshire landscapes designed by Lancelot 'Capability' Brown and is a contribution to the Capability Brown Festival 2016 that commemorates his 300th birthday. It also features the extensive tribute to 'Capability' by Ian Hamilton Finlay in the garden at Little Sparta.
Another Capability Brown edition ~ Wotton House, Bucks
~ NAJ 65/66, The Grenville Landscape of Wotton House, 140 pp., 90 illustrations, 10 authors, 4 artists, 3 map-makers. This A5 book contains the proceedings of the Wotton Landscape Conference (October 2009). All the papers discuss aspects of the landscape conceived by William Pitt the Elder with George Grenville, both prime ministers, and realised by Lancelot 'Capability' Brown, assisted by Benjamin Read.
Explore the 'Portfolio & Shop' (menu bar above) for details of all the back issues, and acquire NAJs online.  For purchases by post, email, phone, see 'Contact Us' (menu bar above).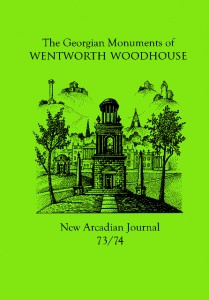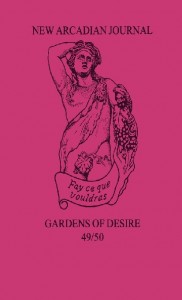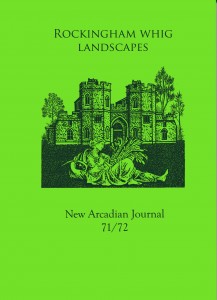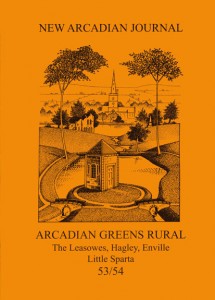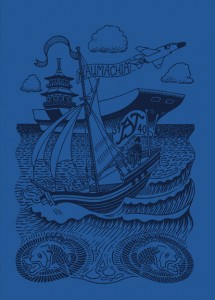 ~ UK price £25 includes post and packing; Overseas price £30 also includes post and packing.
~ For NAJs 1 – 28, UK price £15 ditto; Overseas price £20 ditto.
See also the 'Portfolio & Shop' (menu bar above) for all the 70 Broadsheets (1981-2011) and the books, cards, posters and ephemera.
Still available, the 2nd "surrogate NAJ, enlarged and in colour"
~ Diplomats, Goldsmiths and Baroque Court Culture: Lord Raby in Berlin, The Hague and Wentworth Castle (2014), comprises the proceedings of the 2012 Wentworth Castle conference: 10 chapters by 9 authors with 196 pages and 156 illustrations (largely photographs). This 20 x 26 cm book is bound within a cover embellished with a specially commissioned wrap-around photograph of the Baroque wing of Wentworth Castle and the Raby Cistern. UK price £25 includes post and packing; Overseas price £35 ditto.